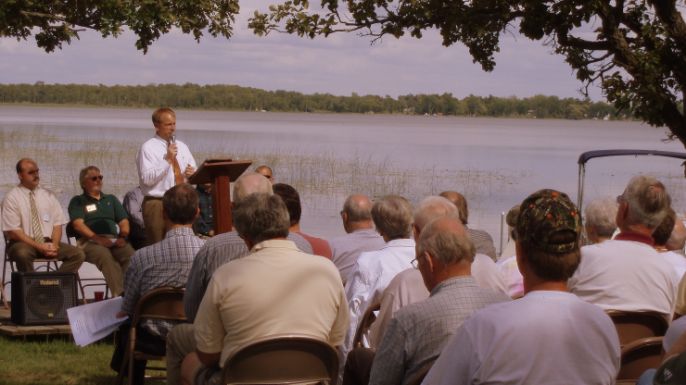 Senator Dan Skogen on Importance of Environment




Habitat Dedication - Walker Lake Preservation Day - August 24, 2007
A public ceremony dedicating two new parcels that protect Walker Lake was held August 24th. About 100 people joined the celebration. There was a brief program featuring six speakers followed by refreshments and tours of the habitat area.
DNR Assistant Commissioner, Larry Kramka, dedicated two new parcels of land adjacent to the existing Dead River/Walker Lake Aquatic Management Area (AMA) at a public ceremony August 24th. He thanked WLP Development for the donation of the conservation easement. DNR Regional Fisheries Manager, Henry Drewes, spoke of the importance of the Walker Lake/Dead River fish hatchery. He stressed the importance of habitat on Walker Lake to maintain the high quality fishing experience in the connecting Otter Tail Lake.
WLP Development, Jim Morgan, spoke about the process of public and private partnership. He encouraged others in the audience to find creative ways to protect habitat for future generations. WLP Development Vice President, Chris Tjornhom, introduced all the people who had participated in the process and gave some history. He also read a letter from DNR Commissioner, Mark Holsten, that stated, "Congratulations to WLP Development, the Otter Tail Lakes Property Owners Association, and all the individuals and other organizations that, through a combination of foresight and perseverance, have invested in habitat that will pay dividends for future generations at Walker Lake." Mr. Holsten also said, "Devastating floods having done serious damage to our southeastern Minnesota parks, trails, hatcheries, and Wildlife Management Areas. I am not able to be here in person. And please, take a moment to remember those who have lost their lives and their homes to this force of nature."
Representative Bud Nornes spoke on habitat and environmental issues. Dan Skogen, Senator and Chairman of the Environment and Natural Resources Subcommittee on Public Lands and Waters, spoke on environmental and public and private partnership. Jointly, they read a proclamation from Governor Pawlenty that declared August 24, 2007 as Walker Lake Preservation Day. Approximately 1.4 miles of continuous shoreline on the Dead River and Walker Lake is now protected after these recent acquisitions.
Notable people in the attendance included: Minnesota State Representative Morrie Lanning, Syd Nelson, Otter Tail County Commissioner; Bill Barber, President of Otter Tail Lake Property Owner Association along with a number of directors; Les Estes, Mayor of Battle Lake and Otter Tail County Planning Commissioner; Gary Carr, Supervisor for Amor Township; and Jim and Del Schweiger, former land owners and stewards.
To conclude the ceremony, a first cast was performed off the dock by all six speakers. No fish were landed on the first cast, but fish were seen chasing the lures back to the dock.